I've been waiting over 4 years for this day.
Almost 4 years ago to the day, then Senator Kasim Reed squeezed out a win over Council Woman, Mary Norwood by approximately 700 votes to win the race for Atlanta's mayorship. Although it was a local race, it seemed as if Atlanta's runoff had the attention of a much wider audience.
My entire year was spent doing everything possible to make sure my candidate, then City Council President, Lisa Borders made the much anticipated run-off.
We didn't.
In an act of pure political grit and hyper-targeted canvassing, Senator Kasim Reed defied a deject-able 6%-polling in mid-August, into a heated run-off with Norwood throughout November, and eventually earned the Mayor's office.
It was a wild time and looking back, for me it was nothing short of a personal blessing my candidate didn't win. I would have never wandered around the ATDC looking for any opportunity I could get my hands on. I likely never would have cold emailed the CEO of a really fast growing start up company, but soon realized they were too big…with 16 people. And I likely would have never worked under a great friend and mentor.
So today, when I had the opportunity to sit down with Mayor Kasim Reed, a flood of memories returned. I have seen him a few times since – heck I went to his celebration party this year. Today was different. It was on real level — a level about Atlanta's future.
After speaking to over 260 technology enthusiasts at the Atlanta Tech Village, Mayor Reed met with a few of us for some quality Q&A.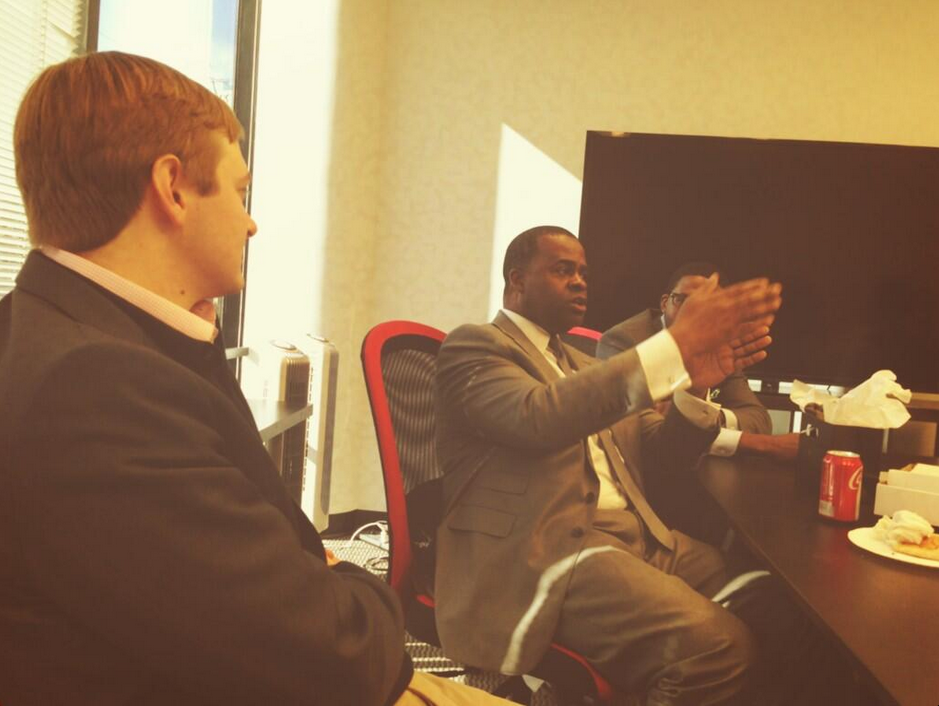 The conversation was very specific in understanding how he could leverage his resources to make Atlanta a talent retainment city as well as an attractive option for larger VC money. After a hearty Q&A and some time to marinate on it this afternoon, here are 4 things I would advise Mayor Reed to do in order to gain traction on the ambitious vision.
1. Keep What We Have: around 50% of students from Georgia Tech are leaving the Metro Atlanta — including my cousin who graduates tomorrow and moves to Greenville to work for GE. Mayor Reed's goal of retaining 75% of Georgia Tech students within 5 years is a brilliant goal. There's a lot to do to keep college students here, I'll save it for another post.
2. Share Success Stories: Atlanta is a "customer" city. Getting multimillion dollar VC deals is not exactly Plan A. We have to stay focused on our customer and get enough of them where they fund our business. This leaves little time to spread stories of amazing success. Being the city's largest cheerleader requires the ability to weave stories through mediums that's easily consumable (Read: Twitter). Bloomberg does this well. There is significant potential for Mayor Reed on this point.
3. Match Big Business and Startups: there are many startups that offer extremely valuable solutions to many Fortune 500 companies. From N4MD out of Hypepotamus to Rigor out of the Atlanta Tech Village, these are quick examples of companies who have big contracts with big businesses in Atlanta. The easier that gap can be bridged, the quicker companies become customers and more jobs become available. They are right in our backyard. Navigating the political capital with the startup ecosystem will take some time and relationship building.
4. Take a Startup Mentality in City Hall: the Govathon is an amazing event. I attended last years and it was fantastic. Steps are already being made here. SalesLoft CTO, Rob Foreman asked a great question on how City Hall can take an iterative approach (with quick feedback loops) to some of the major problems it faces. I understand government ain't exactly in the risk taking business, but taking a "lean startup" approach (HBR article) to growing our ecosystem is the next step beyond annual govathons.
I was extremely grateful for Mayor Reed's visit and his sincere openness to ideas. It's been written numerous times, all the natural resources are here. Today was huge step.  Atlanta is poised for significant growth.