When talking about the media and issues, John F. Kennedy stated: "There never has been so big a gap between the actual issues and discussion of these issues. Dialogue of the deaf: growing and disturbing, between the comparative handful of people truly knowledgeable about the increasingly complex issues of our society and the great majority who just don't understand these issues and hide their lack of understanding behind the old cliches."
The 2018 gubernatorial race in Georgia has been a fascinating to watch. Since the early voting analysis from Ryan Anderson at GeorgiaVotes.com to the celebrity and presidential theatrics, this race has been the most watched governor's since I can remember. As the final tallying of votes comes to a close, I find it interesting to peel one level below the basic media, yet still be hundreds of levels from what's actually happening.
What's important is the Georgia gubanatorial race is big enough to garner interest, but small enough to take away concrete lessons on media, perception, and interpretation of facts. All of this gives clues into how the broader media plays a part into today's larger environment.
For those outside of Georgia, as of today, Abrams lost the race by 55,000 votes. Getting another net 17,751 votes in her favor would mean Kemp falls below 50% + 1 vote which would mean there is a runoff. The Abrams campaign is fighting to ensure every vote counts including provisional and absentee votes as well — which is why a week after the election, she has not conceded the race.
The Abrams campaign is putting in every ounce of energy to count every vote, particularly through the leverage of the courts.
This Wednesday the Associated Press writes:
TLDR: Abrams campaign filed multiple lawsuits, some won, some lost, but key takeaways are absentee ballots must include the proper birthday and the timing for the certification is now ironed out.
—
"On Wednesday, U.S. District Judge Steve Jones ruled that the secretary of state must not certify the state election results without confirming that each county's vote tally includes absentee ballots on which the voter's date of birth is missing or incorrect.
The order stems from a request in a lawsuit filed Sunday by the Abrams campaign. But Jones also rejected the campaign's other requests.
He declined to extend the period during which evidence could be submitted to prove the eligibility of voters who cast provisional ballots. He also declined to order that provisional ballots cast by voters who went to a precinct in the wrong county be counted.
The lawsuit was one of several election-related complaints filed before multiple federal judges.
U.S. District Judge Leigh May ordered Gwinnett County election officials Tuesday not to reject absentee ballots just because the voter's birth year is missing or wrong. She also ordered the county to delay certification of its election results until those ballots have been counted.
Jones' ruling effectively extended May's order to the other 158 counties in Georgia.
U.S. District Judge Amy Totenberg late Monday ordered state officials not to do their final certification of election results before 5 p.m. Friday.
State law sets a Nov. 20 deadline, but secretary of state's office elections director Chris Harvey testified last week that the state had planned to certify the election results Wednesday, a day after the deadline for counties to certify their results."
—
So why is this important?
The reason it's important is the way that each side (and their most ardent supporters) view the facts.
For example, Brian Kemp's communications team viewed the lawsuits as followed:

Notice this was retweeted nearly 800 times.
The link takes you here which quotes his Comms director and their thoughts: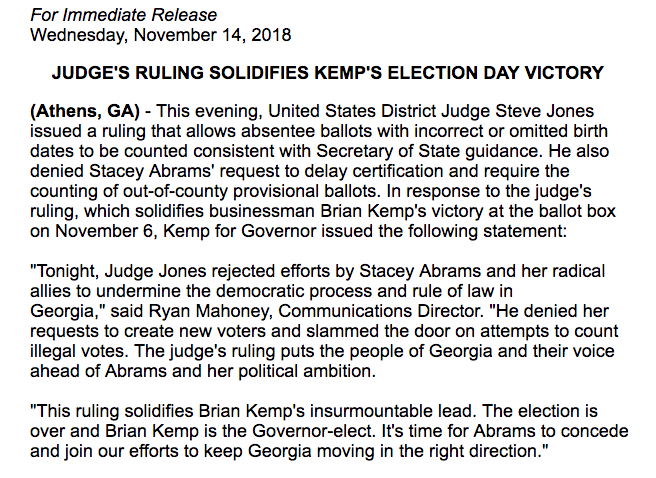 Conversely, Stacey Abrams' campaign manager viewed the lawsuits as followed.

In addition, they have created a clever infographic + chart to provide the trending analysis as more votes get counted.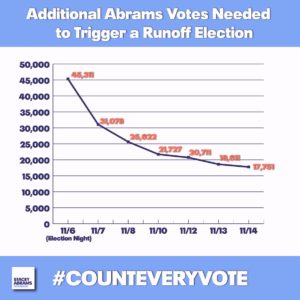 This is why it's so difficult to be a media company today. The facts are the same, but the interpretation and perception are completely different. Imagine being a media company trying to cover many of these races or even any state or national interest that has as JFK put it "increasingly complex issues."
After seeing both sides' take, I go to the most established media in Atlanta which is the AJC. I do it through Greg Bluestein's Twitter account, who has done an outstanding job of bringing in the facts of this race and presenting them with credibility and authority…while covering many of them. He recently posted this recap: A rush for uncounted votes scrambles unsettled Georgia governor's race. 
Bluestein wrote today:
—
"Georgia elections officials scrambled Thursday to count a cache of hundreds of ballots that were previously rejected as they raced to comply with the latest federal ruling in the too-close-to-call contest for governor.
Democrat Stacey Abrams called the judge's order a major victory to extend her quest to become the nation's first black female governor, but Republican Brian Kemp said it would hardly dent his "insurmountable lead" in the race for Georgia's top job.
The latest tally showed Abrams is roughly 55,000 votes behind Kemp — and in need of more than 17,000 votes to force a Dec. 4 runoff. Georgia law requires a runoff if no candidate gets a majority of the vote, which is only a possibility because a third-party contender netted about 1 percent…
…A divide over how many ballots are left outstanding is driving the post-election drama. Kemp's campaign said at most only a few thousand ballots are left, far from enough to force a runoff even if Abrams sweeps them all…
…The Abrams campaign held a press conference Wednesday to highlight the sheer number of provisional ballots that were cast — and assert that enough ballots for her to close the gap are still outstanding."
—
No one knows how many ballots are left outstanding or if they will change the outcome, but I find it fascinating how all of this is communicated out to the masses and makes me even more diligent in what I read and retweet. One thing is certain: it takes a lot more work to get the facts today and not get into the hysteria of knee-jerk social media posts.